​MAXIMA MICROFINANCE PLC. Certified for Commitment Client Protection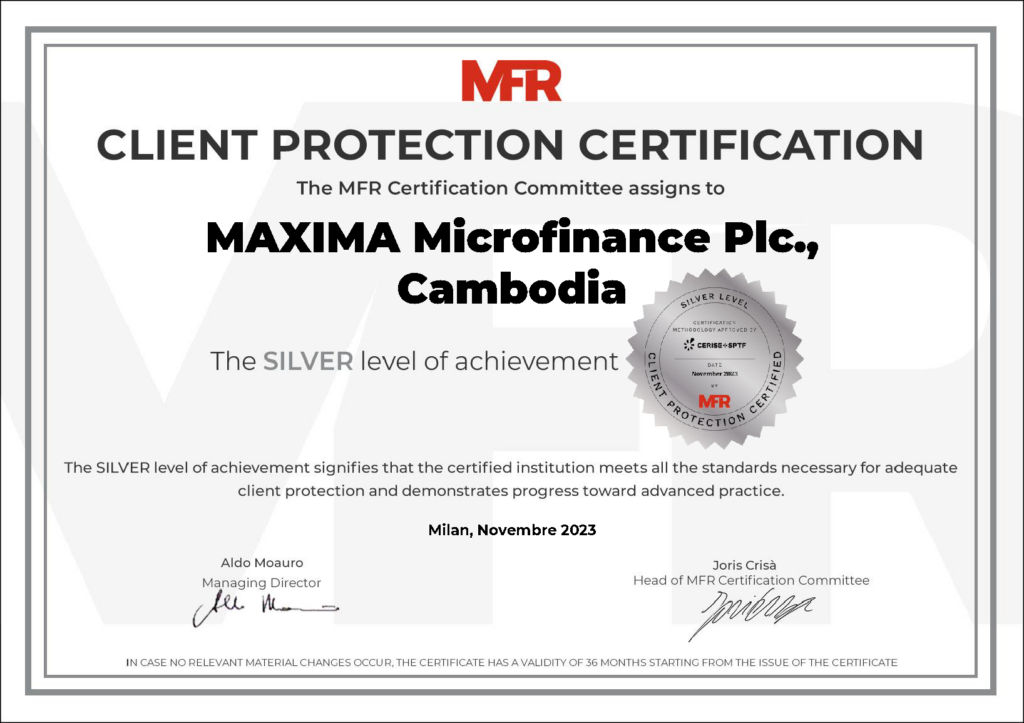 Phnom Penh, Cambodia The Smart Campaign, a global initiative to incorporate strong client protection principles into the financial inclusion industry, has publicly recognized MAXIMA MICROFINANCE PLC. as Client Protection Certified for meeting strong standards of client care.
The institution joins more than 115 others in over 40 countries that have been certified since the program was launched in January 2013. MAXIMA MICROFINANCE PLC. has served the region for 19 years and currently serves more than 6,000 clients.
"We extend our heartfelt congratulations to MAXIMA MICROFINANCE PLC." said Isabelle Barrès, Director of the Smart Campaign. "Their willingness to do the work it takes to prepare for and undergo the intensive process of evaluation is indicative of their deep commitment to their clients. They have shown that this bar is achievable in the area of client protection. Their example will catalyze a movement towards certification within the broader industry."
The Smart Campaign's Client Protection Certification program publicly recognizes those institutions providing financial services to low-income households whose standards of care uphold the Smart Campaign's seven Client Protection Principles. These principles are (1) Appropriate products design and delivery (2) Prevention of over-indebtedness (3) Transparency (4) Responsible pricing (5) Fair and respectful treatment of clients (6) Privacy of client data (7) Mechanisms for complaint resolution.
"We have always held a strong commitment to protecting our clients, but this independent validation lends credibility and demonstrates to our community and our industry that we continue to work every day to improve our service and our commitment to best practices in microfinance," said Pa Ponnak Rithy, Chief Executive Officer of MAXIMA Microfinance Plc.
"Before giving me a loan, MAXIMA's staff clearly explains the price, terms and conditions to me so that I can easily make decision to take out the appropriate loan with my payback capacity. The staff also ask my permission before sharing my information with third parties, and before using my photo in any marketing materials." Said Ms. Sim Sophy, She added that "Thanks to MAXIMA's loan for supporting my business and our family we are now happy". Ms. Sim Sophy is 46-year-old mother of four-two daughters and two sons. She runs a business of grocery items for almost ten years. The family has seen an increase in household income as they have more goods to sell in front of their house. With the loan provided, Ms. Sim Sophy is keen to expand her business further. With the income she earns, she could provide a better standard of living and good education for her children.
The certification program contains a rigorous set of standards against which institutions are evaluated by independent, third-party raters that are licensed by the Smart Campaign. The raters are established, specialized rating agencies with extensive experience, having analyzed hundreds of institutions to date.
MAXIMA MICROFINANCE PLC. has long demonstrated a commitment to client protection. Prior to undergoing certification, the institution was evaluated by the Smart Campaign on its practices and contributed to the development of Campaign tools to help advance the sector. In 2015, Although MAXIMA has always been client committed, it was with the joining (in 2014) of Gojo & Company, Inc., an investor from Japan, as its majority shareholder, MAXIMA began the process of paying keen attention to the management of its social responsibility towards its clients and staff. Gojo & Company, Inc., a strongly 'clients-first' and 'client-centric' investor, supported MAXIMA to set up its first SPM Committee at the Management level and began the process of getting complete Board and Management buy-in. MAXIMA top-management and a Gojo-MAXIMA Director partook in the insightful "Responsible Financing" workshop organized by Oikocredit, which paved the way for MAXIMA's slow and steady yet highly diligent commitment and work towards fully internalizing the Client Protection Principles and gradually using the feedback loop to take informed strategic decisions. Having an experienced Microfinance expert on the Board helped MAXIMA get quick Buy-in at the leadership level, which in turn helped MAXIMA to streamline, internalize and operationalize the Client Protection Principles at all levels within the institution. In 2017, thanks to the support of Agence française de développement (AFD) through Cambodia Microfinance Association (CMA), MAXIMA also received technical assistance to further its work towards better client protection and in working towards obtaining certification from Smart Campaign. It then applied for the certificate in December 2018, with M-CRIL (Micro-Credit Ratings International Ltd) carrying out the rating. MAXIMA is very proud of this milestone achievement, and is the first institution of the Gojo & Company Inc. to be SMART certified.
"I know this certification comes on the cusp of a lot of effort by Maxima Microfinance PLC, from the executive to the loan officer level. It is, indeed, very well deserved.", said Isabelle Barrès, Director of SMART CAMPAIGN. She added that "Once again, congratulations and thank you for your commitment to your clients and to advancing client protection around the world. This showed that MAXIMA MICROFINANCE PLC. really deserve a big awards as practical the entire microfinance sector in Cambodia".
"Our commitment is to see the lives improvement of our clients which is the positive change." said Pa Ponnak Rithy, MAXIMA's CEO. He added that "I am very proud to get such prestigious certification and I would like to express my most heartfelt thanks to the AFD, the Cambodian Microfinance Association, the Smart Campaign and other stakeholders and partners who have supported us in obtaining Client Protection Certification. This recognition shows that MAXIMA has strong commitment on client protection principles we fully apply to protect our clients."
About MAXIMA MICROFINANCE PLC
MAXIMA Microfinance Plc. was founded in March 2000 by a group of friends from the financial services background. In June 2008, the National Bank of Cambodia granted MAXIMA a permanent license to operate as an MFI in Cambodia thus making it the 13th permanent MFI operating in Cambodia. In July 2015, MAXIMA officially renamed from MAXIMA Mikroheranhvatho Plc. to MAXIMA Microfinance Plc. as per requirement from National Bank of Cambodia.
MAXIMA provides financial services with the highest quality of customer service to low income clients, particularly women headed households, in rural areas. MAXIMA strives to contributes to the social and economic development of the household and truly improve lives of the clients. For more information, please visit: www.maxima.com.kh
About the Smart Campaign
​The Smart Campaign aims to improve client protection through better understanding and use of client protection principles by financial institutions (FIs). Certification of FIs is one of the primary activities of the Campaign. The Client Protection Certification Program is possible because of partnerships with the MasterCard Foundation, Ford Foundation, the International Finance Corporation, the Multilateral Investment Fund a (member of the IDB group) and microfinance pioneer Accion. It has been shaped through cooperation with dozens of supporting organizations, notably the Smart Campaign's co-founder, the Consultative Group to Assist the Poor (CGAP). For further information, visit www.smartcampaign.org.
​Media Inquiry
Mr. Khiev Sengdy, Head of SPM Department Address: # 21 AB, Yothapol Khmerarak Phoumin Blvd (271), Sangkat Phsar Doeum Thkov, Khan Chamkarmon, Phnom Penh 12308, Kingdom of Cambodia.
Phone (+855-23) 214 240
Mobile: 089 998 928
Email: head.spm@maxima.com.kh