It took a year before the COVID-19 pandemic, which globally made its presence felt in 2020, eventually reached Cambodia in 2021.
In the first half of the year, Cambodia experienced a rapid domestic transmission of the virus and as such, restrictions and lockdowns were carried out to mitigate its effects. As an effect of these unprecedented events, 2021 ended with a recent estimate of real GDP growth at 3%, slightly lower than the 4% forecast at the end of 2020. Although the manufacturing sector has rebound from slump in 2020, the service sector, especially tourism, is yet to fully recover.
Our clients were largely affected by this new environment and new way of living, which many deemed "the new normal". We encountered clients who struggled with the loss of jobs, suffered from lockdowns, and on top of everything else, the fear of contracting the disease. Since we believed that the spirit of microfinance is to provide individuals and companies with stability and secure their future through financial services, we prepared schemes for clients who faced difficulties in repaying loan commitments, such as reorganizing their repayment schedules, repayment deferment, and waiving late payment penalties. In addition to such legal and contractual schemes, our team are united in their commitment to staying next to each client in line with our principles of client protection, with guidance from the National Bank of Cambodia and the Royal Government of Cambodia serving as our solid foundation.
Under such circumstances, our business growth temporarily slowed down and we experienced an increase in the portfolio at risk, but have gradually recovered by the end of 2021 both in the pace of growth and risk exposure. At the same time, we proceeded with preparatory activities for the future during this period. The first was to review the foundation of existing businesses in terms of efficiency and cost structure. The second was to invest in digitalization and new businesses, and lastly, to strengthen the organizational foundation. These are the cornerstones to the regrowth throughout 2022 and beyond.
On behalf of the management team, I would like to take this opportunity to express my deepest gratitude to the shareholders, the Chairman, and the Board of Directors for their proactive leadership, support and guidance throughout the year, and to our stakeholders which include regulators, investors, and banking and funding partners for the firm trust on Maxima's capability to grow and achieve our mission despite the temporary setbacks through these very challenging times. Equivalently, Maxima's resilience and growth throughout the years would not have been attained without the exceptional dedication and teamwork of our team members at all levels and the unyielding trust of clients in Maxima's services.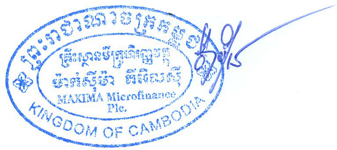 Pa Ponnak Rithy
Chief Executive Officer